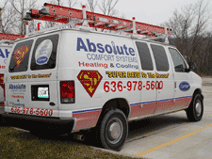 Heating and cooling systems have a way of breaking down when the weather is at its worst; on the coldest day of a frigid winter, or during a sizzling summer heat wave; times when your comfort system must work the hardest, and when you need it most.
Regular check-ups will help to maximize the life expectancy of your system; unfortunately, even the best maintenance won't prevent normal wear and tear.
Preventive maintenance is the most important tool in achieving the efficiency and life of the equipment.
The average life of a furnace is 20-25 years and the air conditioner is 15-18 years. Without regular maintenance this can be reduced by 50%. A dirty coil on the air conditioner can reduce the efficiency between 10-25%, as well as a bad filter can reduce the air flow up to 25%. Absolute's Protection Plan can help reduce the cost of repairs by never needing the repairs at all.
Absolute looks past the current problems as what caused it! More often its not the equipment, but the original installation which has caused the premature failure. The size of the ductwork affects the ability of the blower to deliver the proper air flow to where it's needed. The return is very important to be able to circulate the air back to the furnace to get the comfort needed. If your Heating & Cooling system is working on our "Absolute Guarantee" your family's health and comfort will be priceless. Don't let other appliances and products with more appeal will over the heart of your health and welfare of your home.
Clean and Checks/Evaluation/Guarantee
Air Conditioner Clean & Check
Cleaning of air conditioner outside coil. Check Freon levels for best performance.
Furnace Cleaning & Safety Check
Cleaning of burners & heat exchangers. Check blower for noise & wear.
Air Conditioner or Furnace Evaluation
Written evaluation on all components and Installation of each system.
Service Parts Guarantee
With purchase of Absolute evaluation form, work that is done and does not satisfy will be fixed without diagnostic fee.
Gold, Silver, Bronze Agreements
Gold "Absolute Comfort Plan"
Spring Cleaning & Safety Check
Fall Cleaning & Safety Check
Same Day Priority Service
Extended Hours:
Monday thru Friday (7:00am –6:00pm)
Saturday (8:00 am – 12:00pm)
Parts Discount
(10% off flat rate price)
24 Hour Emergency Service (no Extra Charge)
Silver "Safety & Savings Plan"
Spring Cleaning & Safety Check
Fall Cleaning & Safety Check
Priority Service
(within 24 hours)
Extended Hours:
Monday thru Friday (7:00am–6:00pm)
Saturday (8:00am – 12:00pm)
Parts Discount
(10% off flat rate prices)
Bronze "Safety 1st Plan"
Spring Cleaning & Safety Check
Fall Cleaning & Safety Check